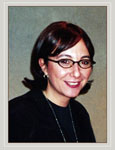 Meet New York criminal defense lawyer Lisa Pelosi – a solo practice attorney practicing in the state of NY with an office located in Manhattan. Lisa handles cases all over NYS and NYC as well as Federal criminal cases in and out of New York.
Hi Lisa – you've been a practicing criminal defense lawyer in NYC for over 20 years. What types of cases do you handle most often?
Yes I have started my career 25 years ago as a NYC Prosecutor. I have defended people who are charged with crimes for the past 20 years. I handle all types of cases from shoplifting to homicide. I have many drug cases on the State and Federal level and seem to receive many calls from individuals charged with domestic violence and assault crimes.
What has been you're most interesting case?
I recently did a trial in Bronx County in which my client, a tenant in the building, was charged with homicide when a fire stared in his apartment. It was very sad because two firefighter heros died and four firefighters were seriouly injured. Although my heart went out to the firefighters and their families I was enraged that my client was being used as a fall guy for a very imperfect system. I am happy to say the jury agreed and my client was found NOT GUILTY.
How about the most difficult case you've ever handled?
I can not think of one in particular. Any case where human circumstance forces people to act in ways that are outside their character which leads to criminal charges. For example, an impoverished woman who carries drugs for 500 dollars and faces life in jail upon arrest.  Aslo a dad who steals to put food on the table. The most difficult is when I am dealing with a perfectly innocent person.
Do you take on cases defending other lawyers and peers dealing with a DUI, drunk driving, domestice violence, white collar crimes or other criminal arrest in NY?
Yes, I handle many DUI ,dunken behavior and domestic violence cases for lawyers, legal and wall street professionals.
In your opinion, what is the best part of practicing criminal law in the state of New York?

New York is the greatest place to live and work. I simply enjoy being were the action takes place.
Thanks for networking with Lisa. You can reach her at 877.529.6399 or via New-York-Criminal-Lawyer.com or NewYorkCriminalAttorneyNow.com .
The Law Office of Lisa Pelosi
233 Broadway Suite 2208
New York, NY 10279
---
Debra Feinberg is the host of NewYorkLawyersSuccess blog,
GetNewYorkLawyers
and
NYC-Web-Search-Specialists
. She's an Internet marketing and helping professional who helps lawyers, marketing consultants, practice management coaches and legal prfoessionals
connect
and build their businesses online. Ideas? Comments? Questions?
Let Debra know how she can help you
.
---