Author: Rosenberg & Gluck, LLP
"Personal Injury is All We Do"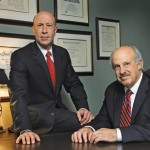 In a news conscious world, we read or hear about car accidents every day. Recently, a head-on collision took the life of a driver going the wrong way with his lights off on the Long Island Expressway around 4:00 AM. ESPN reported that Bronx Promoter, Joe DeGuardia considered himself incredibly lucky to survive the accident. Both cars were totaled and landed about 150 feet from the spot where they collided. However, his brand-new Mercedes' airbag deployed and he was able to walk away from the wreck.
Another man, also a Long Island driver but in a different accident was not as fortunate. The Fairfax Times reported that a pickup truck crossed the median into oncoming traffic, hitting his car straight on. This driver whose car was hit, Douglas F. Schneiderman, died at the scene and his wife and 16-year old daughter along with the driver who crossed the median suffered serious injuries and were all hospitalized.
If you or a loved one has been seriously injured in a car accident, find out how a Long Island car accident lawyer can help.