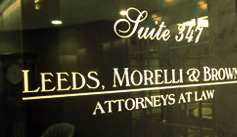 Copiague Eatery Settles Suit for $800K
Author: Leeds Morelli & Brown, PC
Mama's Pizzeria and Restaurant, located in Copiague, has agreed to pay $800,000 to settle a U.S. Labor Department lawsuit. The lawsuit claims that the restaurant willfully failed to pay 40 current and former employees minimum wage and overtime.
The lawsuit was filed in 2009 after an investigation by the Labor Department's Westbury office found that the restaurant's workers often worked 70 to 80 hours a week without overtime. Without the overtime, this pushed the worker's hourly wages below federal minimum-wage rates. The lawsuit claimed workers were paid between $5.15 an hour to $6.55 an hour. The famous pizzeria will be paying $390,000 back wages to the employees as well as $390,000 in damages. Newsday full article .
New York's General Industry Minimum Wage Act states that all employees in New York State, including most domestic workers, must be paid at least $7.25 per hour. The basic rate may be modified by certain requirements set under regulations known as "wage orders." These provisions of the minimum wage law cover jobs in the restaurant, hotel, and building service industry, and miscellaneous industries and occupations. They set an hourly rate plus overtime and allowances in four General Industry Wage Orders, based on meals and lodging supplied by an employer. Some industries make allowances for tips; thus they set a lower hourly rate. For example, food service workers may earn $4.65 per hour because their total compensation includes expected tips. When required uniforms are maintained by the worker, certain allowances also apply. Other service workers have a minimum rate of $5.50 per hour. There are also allowances for meals and lodging supplied by an employer.
Leeds Morelli & Brown, PC is a nationally recognized firm in the area of employment law. Our firm has had considerable success in matters of employment discrimination throughout Long Island and the New York City area. For more information, contact Leeds Morelli & Brown, PC, at 1-800-585-4658 for a free consultation.